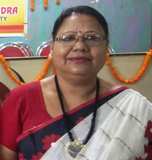 Ramananda College as a torch bearer of Higher education has its mission to impart quality education to the educationally and econamically backward puple of bankura and adjoining districts. It is my proud privilege to serve this premier Higher Educational Institution as Principal.I feel very compassionate towards this college, comprising of well-qualified teachers, skillful non-teaching staff and my dear students. My aim is to make this college a higher-educational centre dedicated to Nation-building. It is my proud privilege to announce that two more U.G. Honours coursesand four certificate courses have started from the session 2018-19. These Short term courses will enrich the learners with some useful vocational training for growing a self-supporting income –earning process in future.
It gives me pleasure to state that our ex-students are now engaged in both India and abroad as Principals, Professors, Scientists, Teachers, lawyers and in many other fields. Many of our alumni occupy key positions in the private sector too. I wish them all success and wellbeing both within and without.
I personally belief that internel management structure of an institution should be based on the principle of governence created on participation, de-centralization, transparency of administration and accountability of its staff members. To end my views I would to quote Swami Vivekananda for the students " Education is the manifestation of the perfection already in man"
I express my gratitude to the Honorable President of the Governing Body of this college, Professor Banibrata Mitra, for always being encouraging, advising and helping me to lead the college properly. I also thank other members of the Honourable Governing Body for cooperating me in different administrative work. I congratulate the teachers, the non-teaching staff-members and the members of the Students' Union for always helping me whenever their help is needed.
My dream is that each student who studies here should acquire sufficient education and life-skills to become next-generation leaders ready to serve the nation both in the government sector as well as in the private sector. I am filling proud of Ramananda College football team for achieving the champion trophy in Inter College District Sports and Games Championship, 2018-19 organized by Govt. of West Bengal and also securing the champion trophy in Inter College Football Championship, 2018-19 organized by Bankura University. I am also feeling proud for selecting our college as nodal college of Bankura University by the government of West Bengal for "Celebration of 125th Anniversary of Chicago Speech". The need of the hour is holistic education. I am especially sensitive to the welfare of the underprivileged classes, our minorities and our female students.
( Dr. SWAPNA GHORAI )
Principal
Ramananda College
Bishnupur, Bankura.